The Madison Skiff Challenge
A portsmouth regatta for skiffs and similar boats, we sail out the the Sailing Center in Warner bay. Single-hand or two up. This is a Saturday and Sunday regatta. We start noon on Saturday and end at 3:00 on Sunday to allow those from out of town travel time. The practice race on Friday is optional but is a lot of fun and longer then our standard races and is highly recommended!


The tentative schedule

A practice race on Friday starts at 6:30. The course is out in the lake a bit so you should plan on leaving the Sailing Center by 5:15. Racing starts on Saturday at 12:00. We will run 4-6 races followed by a distance race. The course for the distance race will be posted at the Sailing Center. Sunday racing begins at 11:00 and no race shall start after 3:00
Friday
6:30 pm practice race
Saturday
11:00 Skippers meeting
12:00 First race
6:00 Cook out at The Sailing Center
Sunday
11:00 First race
3:30 Awards
2014 "11th Annual Madison Skiff Challenge"
Light winds that shifted 180 degrees and died multiple times on Saturday and high winds on Sunday. Scott and Allen take first on the strength of their Saturday results. See pictures
here
.
2013 Madison Skiff Challenge
Dramatic conditions with rain squalls moving through and plenty of wind led to lots of twin trapping and a couple of spills

pictures

2012 Madison Skiff Challenge
A broken mast, a family illness, legal issues and a swarm of Locusts conspired to keep the turnout low but the weather on Saturday was outstanding. Just kidding on the locusts. A couple of boats went out Friday night to practice. With winds over 15 the downhill rides were amazing! Saturday was warm and sunny with winds about 8-12kts and maybe a bit more before racing started. We had 5 buoy races followed by the distance race across the lake. Sunday was beautiful but the winds were pretty light. Three boats went out but no racing due to light and shifty winds.
Pictures

Results
July 15-17 2011 "8th Annual Madison Skiff Challenge"
8th Annual Madison Skiff Challenge a Huge Success!

Three days of sailing, 9 boats, a heat wave and good wind. Friday's practice race was cut short due to looming thunderstorms after we sailed most of the course. The UW Sailing Team came out in force and showed how fast a Vector can go.

On Saturday we ran 6 short course races followed by a distance race to the Memorial Union and back. The wind started out light and built. The best wind showed up in time for the distance race. We were able to plane all the way home.

The wind on Sunday morning was light and spotty. With some teams taking the forecast too seriously only 5 boats went out as the wind built to double digits. It was hot and windy enough to allow some quick unplanned swims. The water is very refreshing. We were able to get in 4 races before the 3:00 deadline. The racing was close with 3 different teams notching a win. Lots of heat but very fun.

Congratulations to Jay and Toby for winning the regatta. Thanks to Peter Lundt for doing race committee on a really hot weekend. Also a huge thanks to Tom McMahan for coming to the rescue when the Yacht Club Whaler broke down before the regatta and offering his whaler for race committee use.


2006 Pictures Saturday, Sunday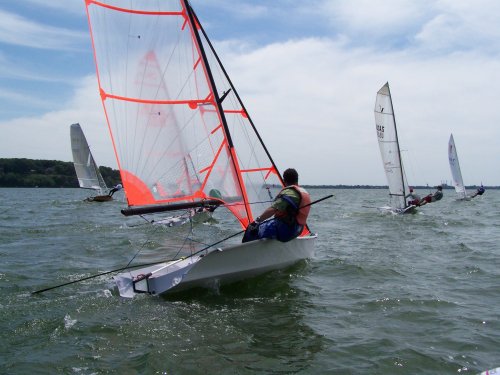 ---